Bayard Genealogy
ARMS:1 Azure, a chevron between three escallops, or.
CREST: A demi-horse, argent.
MOTTO: Amor honor et justitia.
This ancient, noble2 and very prominent family of New York, New Jersey, Delaware, Pennsylvania and Georgia took its rise in France, but the persecutions of the Huguenots appear to have driven them to Holland, where we find at an early day Rev. Nicholas Bayard3, D. D., pastor of a French Church in Antwerp, and a professor in a College prior to 1599, who had a son, Rev. Lazare Bayard.

Among the prominent members of the family we find Colonel Nicholas Bayard, an Alderman of the City of New Amsterdam or New York, who in the days of the early history of the Colony was one of its foremost citizens; as also Petrus Bayard, Alderman; Samuel Bayard, Colonel John Bubenheim4 Bayard a most distinguished citizen who occupied many positions of prominence; the Delaware Bayards, five of whom became United States Senators; Dr. Nicholas Serl Bayard, who removed to Georgia and was one of the founders of the Georgia Medical Society in 1805; and his son, Nicholas James, a banker; as also Rev. George Livingston Bayard, Chaplain in U. S. Navy.
In New York the family descended from or was allied to the foremost families, among whom were the Stuyvesants, Van Cortlandts, Livingstons, Van Rensselaers, Schuylers, Cuylers, Van Brughs and others; in Pennsylvania and Delaware, such families as Asheton, Bassett and Hodge; and in Georgia descended from or related to the Glens, Kings, McIntoshes, Bullochs, Seays and others.

Among a large number of Huguenot refugees who were driven from France by the edict of October 25, 1685, were many who fled to Holland, among whom were the Bayards.

In May of the year 1647, Mrs. Samuel Bayard, who was Ann Stuyvesant, sister of Governor Peter Stuyvesant, left the Old World, having lost her husband who died in Holland prior to that date, and accompanied by her four children, Balthazar, Petrus, Nicholas and Catharine, arrived in New Amsterdam, now New York. Judith, the sister of Samuel Bayard, had married the Director General, Peter Stuyvesant, and thus there was a double relationship between the families of Bayard and Stuyvesant.

We will now proceed to give the genealogy of this ancient family, which in every way became one of the foremost in America.5
Samuel Bayard Genealogy
This line as heretofore accepted begins with Rev. Nicholas Bayard, a pastor in Holland in 1590. who it is stated married Blandina Conde and had Lazare Bayard, who married 1607, Judith de Vos and had Samuel Bayard, who married Ann Stuyvesant, who arrived in New Amsterdam with her children in 1647, but the version as stated in the address on the genealogy of the family by General James Grant Wilson is as follows: (Certain it is, however, that the ancestor was Rev. Nicholas Bayard, there being no disagreement in regard to this matter it would appear.)
Samuel Bayard, who died in Holland before 1647, was the son of Rev. Balthazar Bayard or of another Samuel, married 1638, Ann Stuyvesant, daughter of Rev. Balthazer Stuyvesant, of Friesland, and Margaret Hardenstein, Ann Stuyvesant being the sister of Director General Stuyvesant.

By this marriage of Samuel Bayard to Ann Stuyvesant there were:
Petrus Bayard (died 1690); married Nov. 4, 1674. Blandina Kierstede, who died in New York in 1702. She was daughter of Surgeon or Doctor Hans KierstEde, of Magdeburg, who married, June 29, 1642, Sarah Roelofs, a daughter of Jans Roelofs by his marriage to the celebrated heiress, Anneka Jans.

Balthazer Bayard, married 1664, Maria Lockerman.

Col. Nicholas Bayard, married 1663-4. Judith Varleth, daughter of Casper Varleth, whose brother Nicholas was Ambassador to Virginia from New Amsterdam.

Catharine Bayard, married William De Meyer.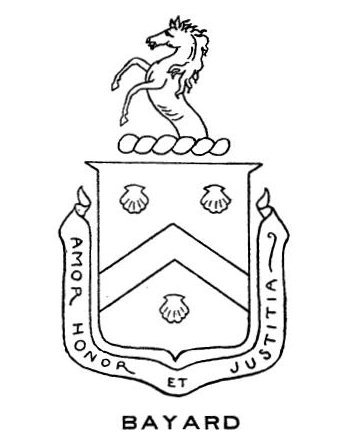 ---
Notes:
The above arms, borne by Samuel Bayard 1638 (Holland). The difference in those borne by Petrus Bayard of New York is only in Crest, a demi-unicorn, argent; and Motto, Honor et justitia.

All families on the Continent of Europe who bear coat armor are considered noble, as were also the ancient feudal barons in England and Scotland.

General James Grant Wilson had despaired of finding the ancestor of Bayard, when later on he found Rev. Nicholas Bayard. a pastor in a Church in Holland.

He dropped the name of Bubenheim and is known only as Colonel John Bayard.

See records of New York, New Jersey, Pennsylvania and the various other sources in New York Historical and Biographical Record. New England Historic and Genealogical Register, Cornell History and Records of Purple. Mead. &c.